The number 1 play in our countdown to determine the best plays of Tennessee's 2015 season is Josh Dobbs' 39 yard touchdown pass to Josh Smith on a fourth-and-eight play against Georgia.
Tennessee's season was coming apart. The Vols had more hype going into the season than most fans could ever remember, but after three close losses to start the year, the season was on the brink of disaster. Tennessee thought it had a chance to get back on the right track versus Georgia, but the Bulldogs jumped out to a early 24-3 lead, and the Volunteers last bit of hope was fading fast.
In desperation, Coach Butch Jones had his offense go for it on fourth down two consecutive times. The first time, Von Pearson slipped and fell, but made an incredible catch while laying on the ground, giving the Vols a first down. Three plays later, the offense had only advanced the ball two yards, and the Vols faced fourth-and-eight at the Georgia 39.
Offensive coordinator Mike DeBord called for a Dagger route concept. Dagger is a three-man route concept designed to put stress on a zone defense. One of the receivers starts the play by running a vertical route down the hash. This serves to draw the attention of the deep safety. The outside receiver runs a 12 yard deep in route, while the other inside receiver runs an underneath route. With the deep safety occupied by the seam route, the offense can hopefully put a vertical stretch on the hook defender, leaving him stuck between the deep in route and the underneath route.
As DeBord was expecting, the Bulldogs were playing a deep zone coverage on fourth down.  This was exactly the look Dobbs was looking for.
Slot receiver Von Pearson ran the vertical route and after some hand fighting, he knocked the hook defender to the ground. This opened up space for Josh Smith. With the hook defender on the ground, Smith was wide open.
The pass was thrown high, but Smith went up and snagged it out of the air. The deep safety was in a bad position, and Smith was able to outrun him to the end zone.
After Smith's touchdown, the Vols had hope. This play was the start of the Vols historic comeback victory, and the win over Georgia proved Tennessee with all the momentum it needed to finish the season strong, winning 7 of their final 8 games.
---
For more information on the Dagger concept and the rest of Tennessee's offensive scheme, be sure to check out my book, Fast and Furious: Butch Jones and the Tennessee Volunteers' Offense. It is the most in-depth study of Coach Jones' offense ever released, and is a must read for any football fan who wants to learn a little bit more about the game.
You can learn more about the book and order your copy on Amazon by clicking HERE.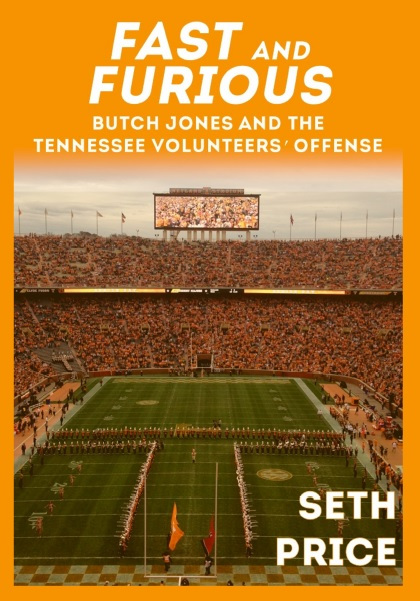 ---
You can read previous installments of this series by clicking below:
Play #35 - Evan Berry's Pick Six
Play #34 - Preston Williams' First Touchdown
Play #33 - LaDarrell McNeil's Comeback
Play #32 - Malik Foreman's Interception
Play #31 - Josh Dobbs and the Sweep
Play #29 - Alvin Kamara's First Touchdown
Play #28 - Jalen Hurd's Big Hit
Play #22 - Darrin Kirkland Jr.'s Interception
Play #21 - Von Pearson's Double Move
Play #20 - Cam Sutton's Career Long Punt Return
Play #19 - Evan Berry's First Kickoff Return Touchdown
Play #18 - Derek Barnett's Sack
Play #17 - Todd Kelly Jr.'s Interception
Play #16 - Brian Randolph's Interception
Play #15 - Alvin Kamara and the Dual Sweep
Play #13 - Kerbyson and the Line Pave the Way
Play #12 - Dobbs Outruns Kentucky
Play #11 - Derek Barnett's Safety
Play #7 - Randolph's Pass Breakup
Play #6 - Trevor Daniel's Big Punt
Play #5 - Josh Dobbs' Game Winner
Play #4 - Josh Dobbs' Diving Score
Play #3 - Dobbs and the Deep Ball