The number 12 play in our countdown to determine the best plays of Tennessee's 2015 season is Josh Dobbs' touchdown run against Kentucky.
A play we have talked about plenty before at Football Concepts is the dual sweep. The Vols unveiled the play against Alabama, and saw remarkable success with it against the Crimson Tide as well as the Kentucky Wildcats.
Here is a quick rundown of the blocking scheme from a previous article.
"The design of this play is simple. Both offensive tackles block down on the defensive ends, sealing them inside. Both offensive guards pull outside to block the outside linebackers. The center's job is to control the nose tackle and not let him impact either the running back or the quarterback. On the strong side, the tight end has to get to the second level and block the middle linebacker. The point of this blocking scheme is to seal the edge on both sides. With the tackles blocking down and the guards pulling around, there should be room around the edge for a runner on either side.

"Dobbs' job is to read the weakside linebacker. Dobbs can either keep the ball himself if the linebacker moves toward the running back, or he can hand it to his back if the linebacker respects the quarterback keep."
The first time Tennessee ran the play against Kentucky, quarterback Josh Dobbs ended up celebrating a touchdown in the end zone.
The Vols were going up-tempo, and when they snapped the ball, Kentucky was not entirely ready. At the snap, weakside linebacker Josh Forrest followed Hurd to the right, giving Dobbs an easy "keep" read.
While left tackle Kyler Kerbyson was able to seal the defensive end inside, left guard Mack Crowder was unable to secure his block on the outside linebacker. Dobbs had to string the run even further outside, and eventually shed an arm tackle by the outside linebacker.
Now in the open field, Dobbs broke the tackle of a safety at the 15 yard line before powering through a few defenders to fall into the end zone.
When you consider the distance covered by Dobbs, as well as the tackles he had to break, this was one of the most impressive runs the signal caller had all season.
For more information on the dual sweep, check out THIS excerpt from my book, Fast and Furious: Butch Jones and the Tennessee Volunteers' Offense. The passage comes directly from the book, which breaks down every aspect of Coach Jones' scheme.
You can learn more about the book and order your copy on Amazon by clicking HERE.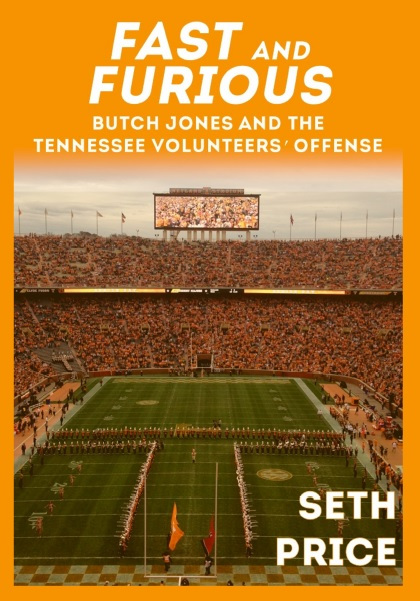 ---
You can read previous installments of this series by clicking below:
Play #35 - Evan Berry's Pick Six
Play #34 - Preston Williams' First Touchdown
Play #33 - LaDarrell McNeil's Comeback
Play #32 - Malik Foreman's Interception
Play #31 - Josh Dobbs and the Sweep
Play #29 - Alvin Kamara's First Touchdown
Play #28 - Jalen Hurd's Big Hit
Play #22 - Darrin Kirkland Jr.'s Interception
Play #21 - Von Pearson's Double Move
Play #20 - Cam Sutton's Career Long Punt Return
Play #19 - Evan Berry's First Kickoff Return Touchdown
Play #18 - Derek Barnett's Sack
Play #17 - Todd Kelly Jr.'s Interception
Play #16 - Brian Randolph's Interception
Play #15 - Alvin Kamara and the Dual Sweep