The number 10 play in our countdown to determine the best plays of Tennessee's 2015 season is Jauan Jennings touchdown pass to Josh Dobbs against Florida.
Needing a spark of momentum, Vols' offensive coordinator Mike DeBord reached deep into his bag of tricks agains Florida. DeBord dialed up a play he liked to use when he was the offensive coordinator at Michigan in the late 90s and early 2000's. DeBord and the Wolverines had a double pass play that the used multiple times, and DeBord brought the exact same play with him to Knoxville.
In this 1999 Michigan game, receiver Dialo Johnson received a lateral from quarterback Drew Henson on the left side of the field. Johnson then pulled up to throw a screen pass to Henson on the opposite side of the field.
Tennessee ran the exact same play against Florida. There are a few key elements that make this play successful. The formation is the first thing to look at. The Vols lined up with Dobbs under center, which is a rarity. This gave Dobbs a better angle to throw the backwards pass.
Another key part of the formation is the bunch on the left. This, first, shifts the defense's attention to the left side of the field, and, second, gives Tennessee an advantage in protecting Jennings when he attempts to throw.
The second thing to note is the personnel. Jennings is a former quarterback, which makes him a great option as the passer on the play. Dobbs is a very good athlete. Once he caught the ball and took off, he looked like a running back carrying the ball down the sideline, not a quarterback. He is certainly a much better fit for this play than Henson or some of the less athletic quarterbacks DeBord used at Michigan.
Finally, let's look at the play itself. The design is to shift the defense to the left with what appears to be a wide receiver screen. Next, the tight end on the right, Ethan Wolf, runs a deep crossing route. This has the effect of pulling the cornerback away from Dobbs. Jennings did an outstanding job of looking off the safety and pulling him towards Wolf.
With Wolf throwing his hand up as if to call for the ball and Jennings looking downfield, you can hardly blame the corner and free safety for following Wolf downfield.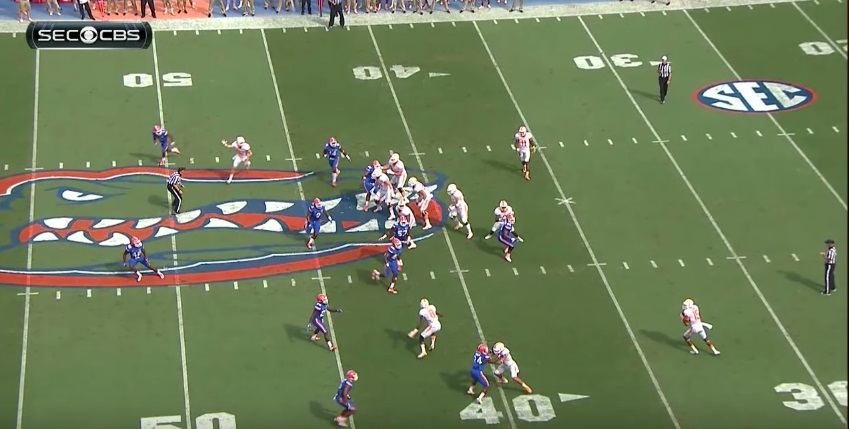 By the time Jennings throws back to Dobbs, Wolf is being double covered downfield, and the athletic quarterback has all five linemen in front of him as lead blockers with only two defenders in the area.
Florida is focused on Jennings and Wolf, and Dobbs ran essentially untouched on his path to the end zone.
---
You can read previous installments of this series by clicking below:
Play #35 - Evan Berry's Pick Six
Play #34 - Preston Williams' First Touchdown
Play #33 - LaDarrell McNeil's Comeback
Play #32 - Malik Foreman's Interception
Play #31 - Josh Dobbs and the Sweep
Play #29 - Alvin Kamara's First Touchdown
Play #28 - Jalen Hurd's Big Hit
Play #22 - Darrin Kirkland Jr.'s Interception
Play #21 - Von Pearson's Double Move
Play #20 - Cam Sutton's Career Long Punt Return
Play #19 - Evan Berry's First Kickoff Return Touchdown
Play #18 - Derek Barnett's Sack
Play #17 - Todd Kelly Jr.'s Interception
Play #16 - Brian Randolph's Interception
Play #15 - Alvin Kamara and the Dual Sweep
Play #13 - Kerbyson and the Line Pave the Way
Play #12 - Dobbs Outruns Kentucky