While the Tennessee Volunteers lost 34-3 to the Ole Miss Rebels, the game was not a total disappointment for the Vols. Tennessee's defense is significantly improved this season, and despite giving up 34 points, they played very well versus the Rebels.
7 points came late in the game after backups were in, 14 points came after the Vols turned the ball over and left the defense in a difficult position, and 10 points came after one Vol made a mistake and gave up a big play. The Rebels only sustained one long scoring drive all game, and it only resulted in a field goal.
One of Tennessee's biggest concerns going into the game was star Ole Miss receiver Laquon Treadwell. Defensive coordinator John Jancek primarily used two methods to stop Treadwell.
First was matching him up with corner back Cam Sutton. Normally, Sutton remains on one side of the field regardless of what the offense is doing. Against Ole Miss, Sutton followed Treadwell and always covered him.
Sutton is one of the more underrated defensive backs in college football, and he had another excellent game against Treadwell.
Early in the game, Ole Miss tried a double move with Treadwell. He lined up split to the left side and ran a hitch and go route. Tennessee was running cover 1 on this play, which is man coverage across the board with a free safety roaming the deep middle. Sutton was in press on this play, as he was for most of the game.
Treadwell slowed down for a step to sell the hitch, but Sutton didn't bite. Once Treadwell turned to look for the ball, Sutton turned his head as well. He is in excellent position to make a play.
Sutton timed his leap perfectly. The ball was slightly overthrown and incomplete, but had it been accurate, Sutton was in perfect position for the tip or interception.
Later in the game, Tennessee again called for cover 1 with Sutton and Treadwell matched up one-on-one. Ole Miss aligned Treadwell alone on the left side and tried to throw a quick slant route to him.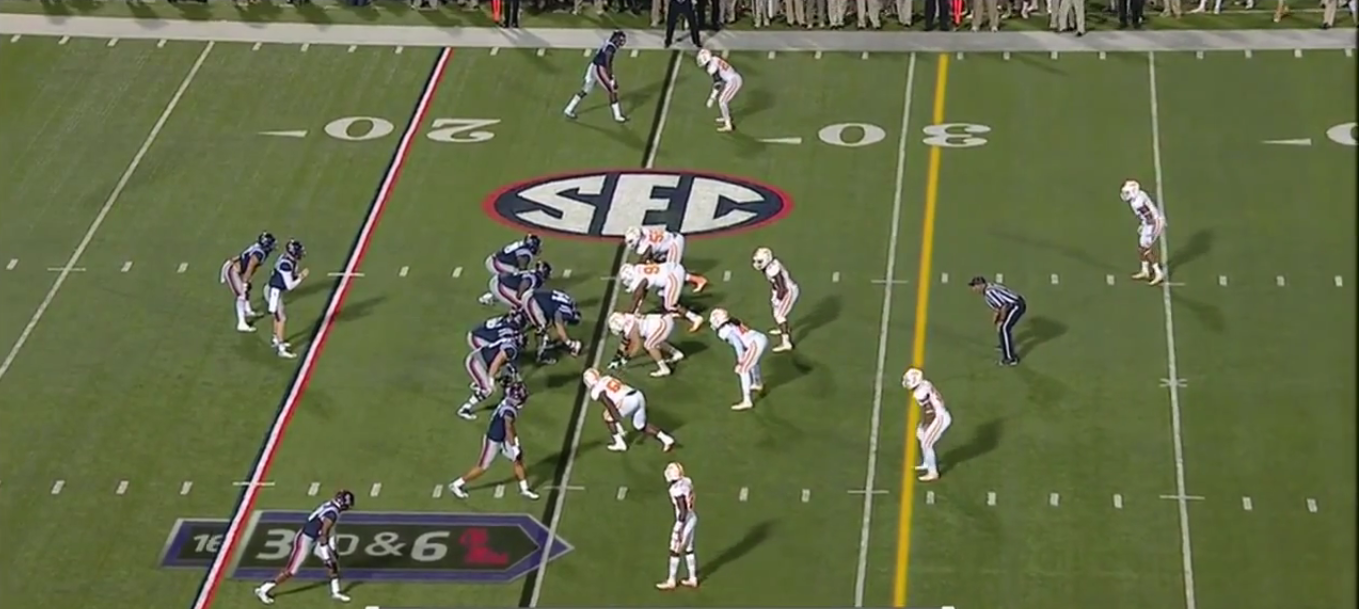 The Vols put a twist on their pressure package, by sending middle linebacker AJ Johnson off the left side, but dropping defensive end Curt Maggitt into man coverage on the back. They still only rushed 4, but not the 4 Ole Miss was expecting.
Immediately, Rebels quarterback Bo Wallace looked left to throw the slant, but Sutton had Treadwell locked up.
Johnson set up the guard with a spin move, while left end Corey Vereen rushed on the edge.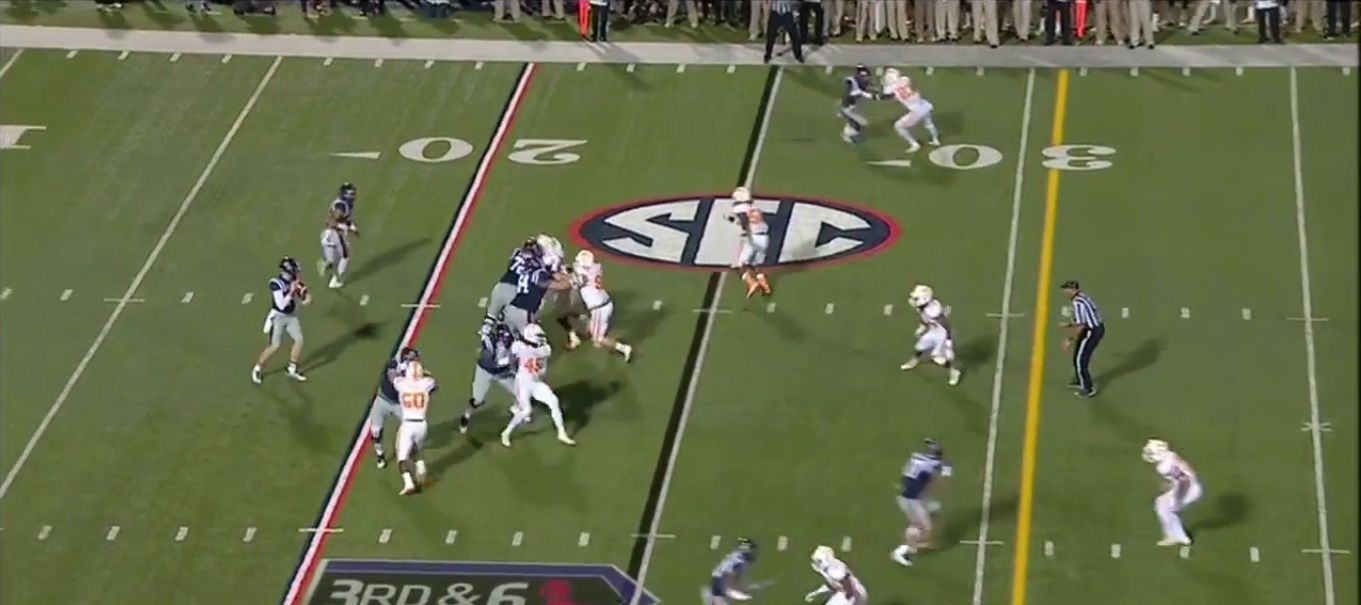 Johnson used his spin move to get past the guard. Wallace panicked because Treadwell was not open, and he had a man in his face.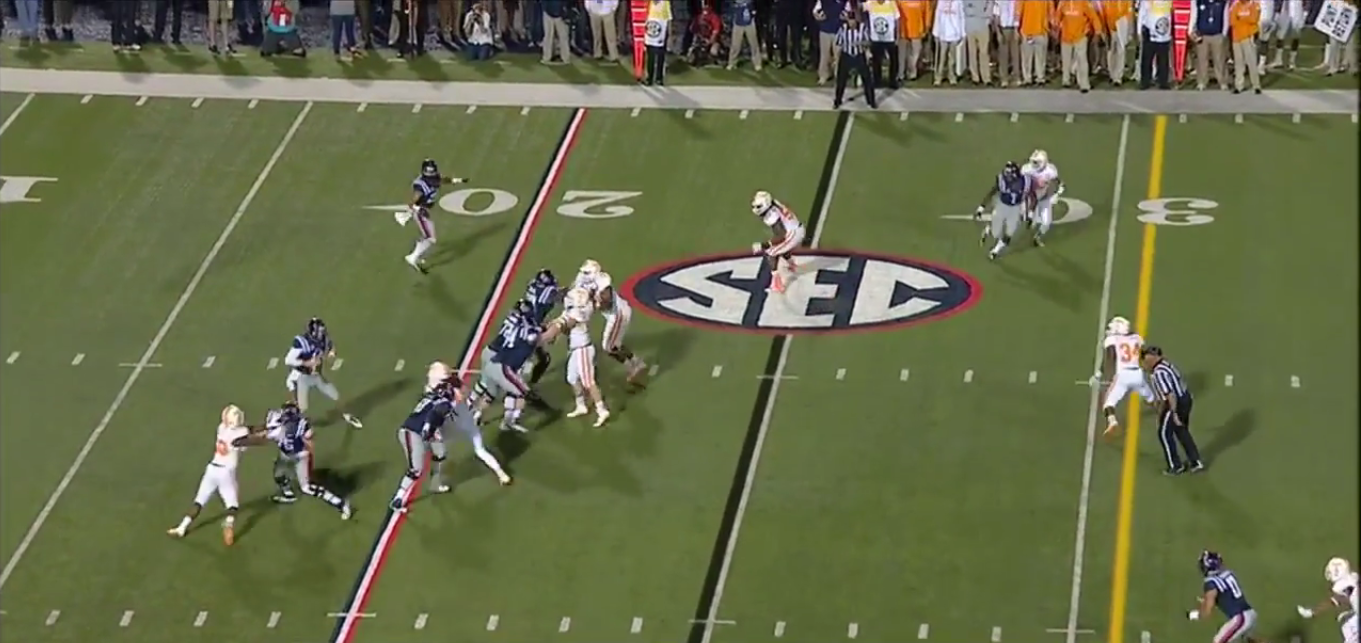 Wallace tried to avoid Johnson by running right, but stepped right into Vereen and was sacked.Sutton had a great ammount of success in man coverage versus Treadwell, only giving up one completion for 12 yards. Sutton was not perfect, but, for the most part, he completely shut down one of the nation's best receivers.
While the Vols liked to match Sutton up with Treadwell, the second way they tried to defend him was to roll defenders to him in zone.
When the Rebels were faced with their first 3rd and long of the day, Jancek dialed up a unconventional coverage out of the Vols 3-3-5 3rd down package. Often on 3rd and long, Tennessee goes to a 3-3-5 package and substitutes pass rushing linebacker Chris Weatherd into the game for a defensive tackle. The Vols usually move their linemen and linebackers around before the snap to disguise their blitz package, and often sends multiple pass rushers.
On this play, Tennessee showed blitz but then dropped 8 into coverage. The call was an inverted cover 3, which had weakside linebacker Jalen Reeves-Maybin sprinting to cover the deep middle while each corner was responsible for their deep 1/3. The defensive linemen rushed the passer, while the safeties, other linebackers, and nickel back were responsible for the short zones. Wallace tried to throw to Treadwell on a dig route, but nickel back Justin Coleman and safety LaDarrell McNeil read the play and jumped the route to force an incompletion.Later in the first quarter, Jancek went back to his 3-3-5 package on a 3rd and long. This time, he sent 5 pass rushers and dropped 6 into quarters coverage. Ole Miss wanted to throw to Treadwell isolated versus Sutton on the left, but joker linebacker Chris Weatherd ran out in the zone coverage to double Treadwell.
Wallace instead tried to throw over the middle to tight end Evan Engram, but McNeil got there right after the ball did and his bone-crushing hit forced the ball from Engram's hands.Overall, Jancek and the Vols had a very good gameplan for stopping Treadwell and the Rebels passing attack. Treadwell was limited to 4 catches (season low) for 43 yards (second lowest). One catch came on a quick screen, one came against Sutton in man coverage, and the other two came against a zone coverage.
While stopping Treadwell was part one of the Vols gameplan, their pass rush was incredibly effective, and it resulted in Wallace having his worst game of the season. Tomorrow, we will take a look at how Tennessee was able to pressure Wallace.